Join Kalón By Kiesha for a Vision Board Party & Winter Open House Skincare Sip & Shop!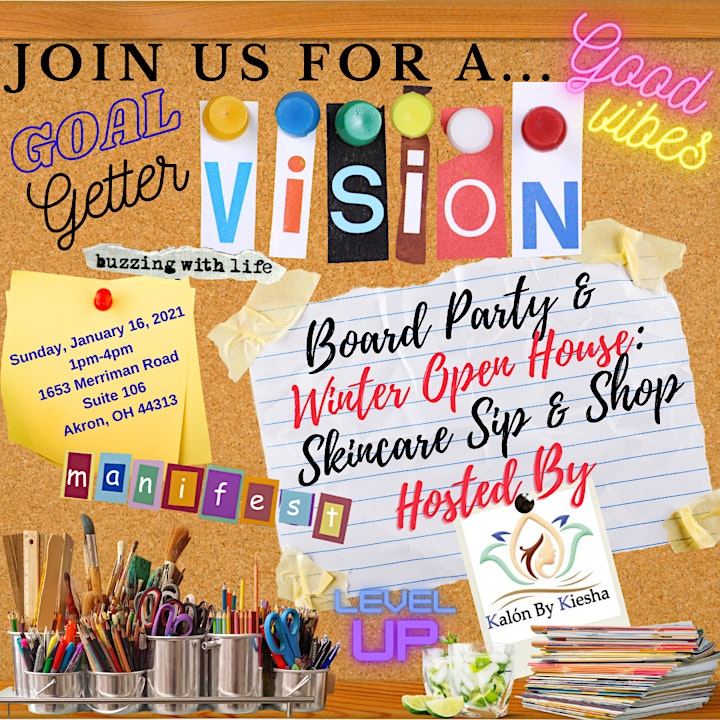 "The best way to predict your future is to create it." — Unknown.
Close your eyes and think about a dream you have – a goal you want to make become a reality.
What if your vision board came true?
The New Year is here and most of us have already reflected on what we've done in 2021 and are thinking about what we want to accomplish for 2022.
Life can be congested at times and that is why we want to take a moment to offer a supportive environment to help you focus on your intentions, think through your goals, create the visualization by finding images and quotes that directly align with what you want to accomplish in your life and execute them all year long!
So keep an open mind and an open heart and join us for an afternoon of working on goals while enjoying positive vibes amongst some ambitious friends. Light refreshments will be provided along with some empowerment dialogue offering insights, affirmations and inspirations on navigating through 2022 to make your dreams become a reality!
In addition to the Vision Board Party, we will be hosting our Winter Open House: Skincare Sip & Shop. This informal and informative event provides the opportunity to sip on Kalón By Kiesha's signature beverage while touring the studio, shopping a selection of skin care and wellness merchandise and consulting with an Licensed Skin Care Expert regarding products, treatments and services available to help keep your skin looking healthy and you feeling beautiful.
While walk-ins for the Winter Open House are welcomed, registration is required for the Vision Board Party as this will help us plan and tailor supplies for each of you! Click here to register: Vision Board Party!!
We look forward to you joining us for some rest and relaxation as you are intentional with your goals for 2022!
For the health and safety of all guests, we are following the recommended CDC guidelines on Covid-19 regarding social distancing, masks and hand hygiene and respiratory etiquette.